---

UMTS Location Based Services


UMTS networks will support location service features, to allow new and innovative location based services to be developed. It will be possible to identify and report in a standard format (e.g. geographical co-ordinates) the current location of the user's terminal and to make the information available to the user, ME, network operator, service provider, value added service providers and for PLMN internal operations. The location is provided to identify the likely location of specific MEs. This is meant to be used for charging, location-based services, lawful interception, emergency calls, etc., as well as the positioning services.

Location Information consists of:

Geographic Location

Velocity (the combination of speed and heading )

Quality of Service information (horizontal & vertical accuracy and response time)

3GPP specification also describes location based service reliability, priority, security, privacy and other related aspects.


Location-independent
Most existing cellular services, stock prices, sports reports
PLMN or country
Services that are restricted to one country or one PLMN
Regional
(up to 200km)
Weather reports, localized weather warnings, traffic information (pre-trip)
District
(up to 20km)
Local news, traffic reports
Up to 1 km
Vehicle asset management, targeted congestion avoidance advice
500m to 1km
Rural and suburban emergency services, manpower planning, information services (where are?)
100m (67%)
300m (95%)
U.S. FCC mandate (99-245) for wireless emergency calls using network based positioning methods
75m-125m
Urban SOS, localized advertising, home zone pricing, network maintenance, network demand monitoring, asset tracking, information services (where is the nearest?)
50m (67%)
150m (95%)
U.S. FCC mandate (99-245) for wireless emergency calls using handset based positioning methods
10m-50m
Asset Location, route guidance, navigation
Example of location services



The table below lists the attributes of specific location based services as determined by the GSM Alliance Services Working Group. It is possible for the network operator or service provider to define additional, non-standardised service types.


Location based services categories
Standardized Service Types
Public Safety Services
Emergency Services
Emergency Alert Services
Location Sensitive Charging
Tracking Services
Person Tracking
Fleet Management
Asset Management
Traffic Monitoring
Traffic Congestion Reporting
Enhanced Call Routing
Roadside Assistance
Routing to Nearest Commercial Enterprise
Location Based Information Service
Navigation
City Sightseeing
Localized Advertising
Mobile Yellow Pages

Service Provider Specific Services



Standardized Service Types



UE locations is reported periodically. The periodic reporting function is generally applicable for asset management services and exists as several variants, each applicable to different value added services:


| | |
| --- | --- |
| Location reporting only within predetermined period | e.g. commercial asset tracking and, subject to provision of privacy, manpower planning. |
| Periodic location reporting within specified period and reporting triggered by a specific event | e.g. high value asset security, stolen vehicle monitoring, home zone charging. |
| Periodic location reporting triggered by a specific event | e.g. 24hr depot management, transit passenger information systems |


A LCS Client is a logical functional entity that makes a request to the PLMN LCS server for the location information of one or more than one target UEs. A LCS server consists of a number of location service components and bearers needed to serve the LCS clients. The LCS server shall provide a platform which will enable the support of location based services in parallel to other telecommunication services such as speech, data, messaging, other teleservices, user applications and supplementary services. Using the Location Service Request, an LCS client communicates with the LCS server to request the location information for one or more target UEs within a specified set of quality of service parameters. As shown in below, a location service may be specified as immediate or deferred.


| | | |
| --- | --- | --- |
| Request Type | Response Time | Number of Responses |
| Immediate | Immediate | Single |
| Deferred | Delayed (event driven) | One or More |
Location Service Requests



The LCS Server will provide, on request, the current or most recent Location Information (if available) of the Target UE or, if positioning fails, an error indication plus optional reason for the failure.

For emergency services (where required by local regulatory requirements), the geographic location may be provided to an emergency services LCS Client either without any request from the client at certain points in an emergency services call (e.g. following receipt of the emergency call request, when the call is answered, when the call is released) or following an explicit request from the client. The former type of provision is referred to as a "push" while the latter is known as a "pull".


Type of Access
Information Items
Push
Current Geographic Location (if available)
MSISDN
IMSI
IMEI
NA-ESRK
NA-ESRD
State of emergency call:
– unanswered, answered, released
Pull
Geographic location, either:
- Current location
- Initial location at start of emergency call
Location information that may be provided


The specification Release '99 specifies the following LCS positioning methods:


Cell coverage based positioning method

Observed Time Difference Of Arrival (OTDOA) method with network configurable idle periods

Network assisted GPS methods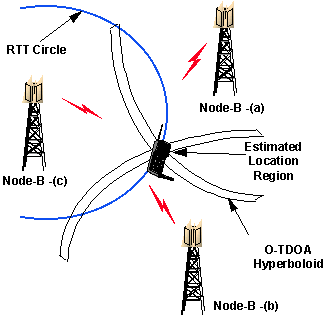 OTDOA Location Method




U-TDOA has been formally standardized by the 3GPP (05/05/03)

Further reading: 3GPP TS 23.032, TS 23.271, TS 22.071, TS 25.923