Licenses
Contracts
Owners
Products
Market
3G Stocks
Layoffs
Live
Press Clips
EDGE
3G Market Shares: Infrastructure, User Equipment, Subscribers
---



There will be a lot of new players in a 3G terminal business. The Ericsson-Sony phone and brand merger will shake the market as will the new arrival of 3G PDA manufacturers. Japanese companies Panasonic/Matsushita and NEC seem to be starting stronger this time and top GSM phone manufacturers Nokia, Motorola and Siemens will have tougher competition in the market. Samsung and LG will also make a big impact in the market. The race is also on to fill the terminals with third party software applications.


Here are the latest market research reports:



11. November 2004: IC Insights reports: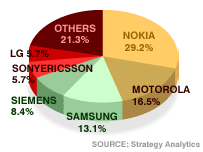 29. April 2004: The mobile phone market share 1Q/2004, Source: Strategy Analytics via BBC

"World sales of handsets leapt by an annual 40% to 153 million in the first three months of 2004

Motorola ... saw its share of the global market grow to 16.5% from 15.3% in the first quarter of 2003 with unit sales up 50%, Strategy Analytics said."
15. March 2004: Worldwide Manufacturer Sales to End Users of Mobile Terminal Devices in 2003 (Thousands of Units) Source: Gartner via ITFacts.biz
| | | | | |
| --- | --- | --- | --- | --- |
| Company | 2003 Sales | 2003 Market Share (%) | 2002 Sales | 2002 Market Share (%) |
| Nokia | 180,672.4 | 34.7 | 151,421.8 | 35.1 |
| Motorola | 75,177.1 | 14.5 | 72,852.6 | 16.9 |
| Samsung | 54,475.1 | 10.5 | 41,684.4 | 9.7 |
| Siemens | 43,754.3 | 8.4 | 34,618.0 | 8.0 |
| SonyEricsson | 26,686.3 | 5.1 | 23,112.9 | 5.4 |
| LG | 26,213.7 | 5.0 | 13,797.6 | 3.2 |
| Others | 113,009.6 | 21.8 | 94,143.8 | 21.7 |
| Total | 519,988.5 | 100.0 | 431,631.0 | 100.0 |

3. March 2004 NCAsia Online: "The number of mobile phones produced in the full year of 2003 topped 518,150,000 units, for a year-on-year increase of more than 24.4%, according to research by Nikkei Market Access [and] forecast[s] that production will be around 543,720,000 units in 2004, up slightly from 2003."




2003 mobile phone market share
Top 5 Vendors, Worldwide Mobile Phone Shipments


| | | | |
| --- | --- | --- | --- |
| Rank | Vendor | 2003 Shipments | 2003 Market Share |
| 1 | Nokia | 179,339,210 | 33.6% |
| 2 | Motorola | 75,439,176 | 14.1% |
| 3 | Samsung | 53,004,233 | 9.9% |
| 4 | Siemens | 45,344,920 | 8.5% |
| 5 | LG Electronics | 27,496,720 | 5.2% |
|   | Other | 152,732,263 | 28.6% |
|   | Total | 533,356,522 | 100.0% |
Source: IDC, 2004
According to research firm Strategy Analytics some 516 million handsets were shipped 2003, up from 429 million in 2002 and beating the previous record of 435 million in 2000. Source: Strategy Analytics, 2004
Q4/2003 mobile phone market share
Top 5 Vendors, Worldwide Mobile Phone Shipments


| | | | |
| --- | --- | --- | --- |
| Rank | Vendor | 4Q 2003 Shipments | 4Q 2003 Market Share |
| 1 | Nokia | 55,342,432 | 33.0% |
| 2 | Motorola | 22,447,819 | 13.4% |
| 3 | Samsung | 15,986,310 | 9.5% |
| 4 | Siemens | 15,241,956 | 9.1% |
| 5 | LG Electronics | 8,933,545 | 5.3% |
|   | Other | 49,837,865 | 29.7% |
|   | Total | 167,789,927 | 100.0% |
Source: IDC, 2004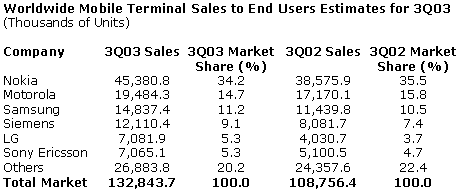 Note: The table includes sales of Integrated Digital Enhanced Network (iDEN) and wireless local loop terminals.
It excludes shipments from original design manufacturers (ODMs) to OEMs.
Source: Gartner Dataquest (December 2003)




Market shares of phones with integrated digital cameras
Europe, Middle East & Africa; September 2003
Vendor
2Q/03 Shipments
Market Share
1Q/03 Shipments
Market Share
Growth 2Q/03-1Q/03
Nokia
1,636,430
42.6%
588,380
40.8%
178%
Sony Ericsson
848,160
22.1%
176,160
12.2%
381%
Samsung
404,630
10.5%
-
0.0%
N/A
Sharp
374,500
9.7%
302,260
20.9%
24%
Panasonic
284,700
7.4%
359,260
24.9%
-21%
Others
295,520
7.7%
17,250
1.2%
1613%
Total
3,843,940
100.0%
1,443,310
100.0%
166%
Source: Canalys.com 2003
Q2/2003 Western European mobile phone market
Market size: 24.5 million handsets were shipped


Rank
Vendor
2Q03
% Share
2Q02
% Share
Growth
1
Nokia
13,084,815
53.4%
12,623,999
50.3%
3.7%
2
Siemens
3,240,950
13.2%
3,352,710
13.4%
-3.3%
3
Sony Ericsson
2,150,000
8.8%
2,700,000
10.8%
-20.4%
4
Motorola
2,070,000
8.4%
2,452,500
9.8%
-15.6%
5
Samsung
1,150,000
4.7%
1,100,000
4.4%
4.5%
 
Others
2,817,595
11.5%
2,875,576
11.5%
-2.0%
 
Total
24,513,360
100.0%
25,104,785
100.0%
-2.4%
Source: IDC, 2003
Q2/2003 Global Handset Market.
Market size: 115 million handsets were shipped globally

Market share based on units shipped:
1. Nokia 35.9 %
2. Motorola 14.6%
3. Samsung 9.9%

Source: Gartner Research

Q2/2003 Global Handset Market.
Market size: 110.9 million handsets were shipped globally

Market share based on units shipped:
1. Nokia 37 %


Nokia has 11 % global CDMA market share

CDMA shipments grew 13 % year-over-year

GSM shipments also grew 13 % year-over-year

LG Electronics grew shipments 43 % annually

Source: Strategy Analytics

Q2/2003 smart phones sales. Market size: 1.97 million phones shipped in Q2.

Market share based on units shipped:
Nokia 61.0 %
SonyEricsson 10.2 %
Motorola 5.8%
RIM 4.6 %
Kyocera 2.6 %
the rest 15.8 %

Source: IDC report

Q2 2003 view: According to IDC Worldwide Handset 2Q View market share estimates were:

| | | | |
| --- | --- | --- | --- |
| Rank | Vendor | Shipments | Market Share |
| 1 | Nokia | 40,906,111 | 34.6% |
| 2 | Motorola | 15,800,000 | 13.4% |
| 3 | Samsung | 12,000,000 | 10.1% |
| 4 | Siemens | 8,100,000 | 6.8% |
| 5 | Sony Ericsson | 6,700,000 | 5.7% |
|   | Other | 34,814,136 | 29.4% |
|   | Total | 118,320,247 |   |
Another view: Q1/2003 Global Handset Market. Unit sales: 112.7 million

Market share based on units shipped:
1. Nokia 35.0 %
2. Motorola 14.7 %
3. Samsung 10.5 %
4. Siemens 7.6 %
5. SonyEricsson 4.8 %
Others 27.3 %


Source: Gartner, June 2, 2003

Q1/2003 Global Handset Market. Market size: 108.3 million handsets were shipped to distributors in the first quarter and 113 million were sold to consumers. By comparison, Nokia estimated first-quarter shipments at 98 million units.

Market share based on units shipped:
1. Nokia 35.1 %
2. Motorola 15.4 %
3. Samsung 12.2 %
4. Siemens 7.4 %
5. LG 5.2 %
6. SonyEricsson 5.0 %
7. Kyocera 2.5 %
8. Panasonic 2.0 %
9. Mitsubishi 1.8 %
10. NEC 1.8 %
Others 11.6 %

Two local Chinese producers have entered the top 15
Source: Strategy Analytics also via 3G.co.uk

Q1/2003 smart phones sales. Market size: 1.7 million phones shipped in Q1, which is only 1.6 percent of the total number of wireless phones.

Market share based on units shipped:
Nokia 57.3 %
SonyEricsson 11.1 %
Motorola 7.4 %
Samsung 5.1 %
Handspring 4.1 %
the rest 14.9 %

Source: IDC report

Q1 2003 view: According to IDC Worldwide Handset 1Q View market share estimates were:

| | | | |
| --- | --- | --- | --- |
| Rank | Vendor | Shipments | Market Share |
| 1 | Nokia | 38,150,400 | 35.5% |
| 2 | Motorola | 16,700,000 | 15.5% |
| 3 | Samsung | 13,200,000 | 12.3% |
| 4 | Siemens | 8,000,000 | 7.4% |
| 5 | LG | 5,620,000 | 5.2% |
|   | Other | 25,916,102 | 24.1% |
|   | Total | 107,586,494 |   |



Year 2002 view: According to Forbes report based on Gartner, HSBC and Dresdner Kleinwort Wasserstein estimates.

2002 market shares were:
1. Nokia 35.6%
2. Motorola 15.7%
3. Samsung 9.5%
4. Siemens 8.4%
5. Sony/Ericsson 5.4%
Others 25.4%

Copyright Forbes.com. All rights reserved.




Nokia leads the current global mobile phone market share with about 35%. Motorola is catching Nokia's lead and now has about 17 % market share (late 2001 estimate). It is closely followed by Siemens and struggling Ericsson. In the biggest single mobile market, China, Motorola has passed Nokia this year for the top spot. According to NPD Intelect, Nokia has a 44.5% phone market share in the USA. Motorola has the second place with 19,8 %, followed by Ericsson 8,3% and Qualcomm 6,0 %.



Q3 2002 view: According to Reuters report based on Gartner's (G) and Strategy Analytics's (S) reports.

Q3 2002 market (101million handsets) shares were:
1. Nokia 35.9% (G)
2. Motorola 14.4% (G) 16.7% (S)
3. Samsung 10.6% (G)
4. Siemens 7.8% (G)
5. Sony/Ericsson 4.8% (G)

Copyright Reuters.com. All rights reserved.





Q2 2002 view: According to Strategy Analytics report, there were 96.7 million handset shipments in Q2 2002.

Q2 2002 market shares were:
1. Nokia 37.2%
2. Motorola 17.3%
3. Samsung 9.8%
4. Siemens 8.5%
5. Sony/Ericsson 5.2%
6. LG 3.8%
7. Alcatel 3.1%
8. Kyocera 2.7%

Copyright Strategy Analytics Inc. and Donga.com. All rights reserved.


Another Q2 2002 view: According to Gartner Dataquest (27th August), there were 98.7 million handset (up 0.8 million) shipments in Q2 2002.

Q2 2002 market shares were:
1. Nokia 35.6%
2. Motorola 15.7%
3. Samsung 9.5%
4. Siemens 8.4%
5. Sony/Ericsson 5.3%

Copyright Electricnews.net. All rights reserved.





Q1 2002 view: According to Strategy Analytics report, there were 91 million handset shipments in the first three months of 2002. GSM market share was 65% and CDMA market share was 16% of Q1 shipments.

Q1 2002 market shares were:
1. Nokia 35.2%
2. Motorola 15.6%
3. Samsung 10.4%
4. Siemens 9.1%
5. Sony/Ericsson 6.4%

Copyright Strategy Analytics Inc. All rights reserved.


Another Q1 2002 view: According to Gartner Dataquest report, there were 93.76 million handset shipments in the first three months of 2002.

Q1 2002 market shares were:
1. Nokia 34.7%
2. Motorola 15.5%
3. Samsung 9.6%
4. Siemens 8.8%
5. Sony/Ericsson 6.4%

Copyright Gartner Dataquest. All rights reserved.





Another view: February 2002 Gartner estimated the 2001 market share to be:
1. Nokia 35.6%
2. Motorola 10%
3. Samsung 7.5%
4. Siemens 7.4%
5. Sony/Ericsson 7.3%

Copyright Gartner. All rights reserved.

More in March 2002: "In 2001 there was 3.2% drop in global phone sales. According to Gartner a total of 399.5 million handsets were sold in 2001. Nokia managed to increase its market share from 30.6% in 2000 to 35% last year. Samsung has increased its handset sales of 37% to 28 million last year."

In CeBit March 2002: "Speaking at the CeBIT trade fair, Mike Zafirovski, president of Motorola's Personal Communications Sector, said Motorola PCS now has a global market share of around 17%, and that the long-term aim is to increase this to 25%."





Alliances:


The 3G network vendors that do not have terminal business are busy forming alliances. Nortel has co-operation with Panasonic, Alcatel is working with Sagem and Lucent has partnered with Qualcomm, Nokia and Lucky Goldstar co-operate on 2G phone technology.

The Japanise WCDMA operator, NTT DoCoMo, was initially in 2001 selling NEC and Panasonic developed WCDMA phones. The least expensive of NTT's three phones, the FOMA P2401, cost US$250. The most expensive, FOMA P2101V, was priced at US$510. (2001 prices)

We will monitor the market and post the terminal market shares here when the sales really take off.



Contributors to 3G PDA phone's costs: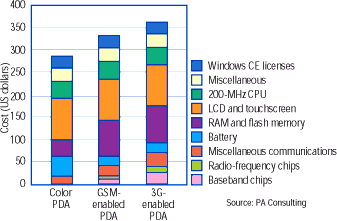 Read the whole article